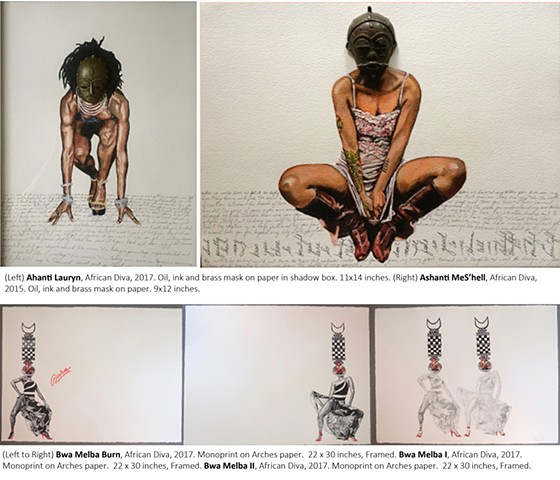 Two Art Basel Miami Beach 2017 VenuesFeature New African Diva Prints and Works on Paper by Artist Margaret Rose Vendryes
Margaret Rose Vendryes, Associate Professor of Art History and Fine Arts at York College, CUNY, began The African Diva Project in 2007, now numbering over 45 works of art. The Project complicates the role ethnic and gender identities play in contemporary African and African American visual culture by merging African aesthetics with popular African-American music and visual culture. Vendryes has had solo exhibitions in Boston, New York, and Biloxi as well as participation in group exhibitions over the last decade.
PRIZM ART FAIR
Prizm explores an array of narratives shaping the Diasporic experience in widespread geographies across the globe including Iran, Egypt, Nigeria, South Africa, the Caribbean, Europe and the United States to reveal a contemporary discourse that addresses forces defined by an evolved assessment and understanding of the effects of colonialism, the cultural adaptations that have emerged as a byproduct of relocation and displacement and the prescription for an illuminated future.
PRIZM Venue and Hours:
Mana Downtown, 145 East Flagler Street, Miami, Fl 33131
Tuesday, December 5, 6 pm - 10 pm, Advanced RSVP required
General Admission
Wednesday, December 6 - Sunday, December 10, 10am - 6pm
Monday, December 11 - Sunday, December 17, 11am - 6pm
INK MIAMI ART FAIR/Childs Gallery
Modern & Contemporary Works on Paper. The INK Miami Art Fair transforms the historic Suites of Dorchester hotel into distinctive art galleries, surrounded by a verdant and tranquil courtyard.
Childs Gallery, established in 1937 on Newbury Street in Boston's Back Bay, holds one of the largest inventories of oil paintings, drawings, watercolors, prints and sculpture in the United States.
INK MIAMI Venue and Hours:
Suites of Dorchester, 1850 Collins Avenue, Miami Beach, FL 33139
Wednesday, December 6, 9am - 5pm
Thursday, December 7 - Saturday, December 9, 10am - 8pm
Sunday, December 10, 10am - 3pm